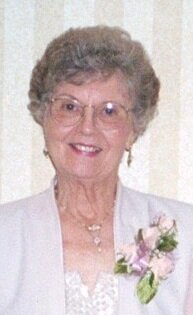 Obituary of Katherine M. DeNeau
Katherine Mae DeNeau was surrounded by family members to celebrate her 95th birthday on June 10th, 2022. Six days later she entered the heavenly kingdom as she had lived her life- full of grace and probably dancing. Katherine was a Lockport girl, born and raised on Walnut St., the oldest child of Gladys and Denton Plummer. A beauty right from the beginning, she was often the muse for her father's photography business. Katherine found the beauty in everyone and everything. As a young girl she spent many days outside exploring and appreciating nature on her grandparent's homestead in Orangeport, NY. Her parents fostered her creativity with dance, art, and drama classes of all kinds. As a teenager, her Gone with the Wind Scarlett O'Hara looks and fun personality caught the eye of Bob DeNeau, also born and raised in Lockport. Just as the jitterbug dance craze hit the states, Bob became crazy over Kay. It was the beginning of a Greatest Generation love story. Not even WWII could keep them apart. Kay would ride the train down to NYC to meet Bob on his leaves from the US Navy. It was at Grand Central Station that he proposed. After the war, Kay and Bob would build their home in the town of Lockport close to their parents, brothers, sisters, and war buddies. They started a family and they kept having babies until they had six: Deborah (Don Noble), Paul, Cynthia (Doug McCoy), David, Rebecca (Eric Collander), and Robert Jr. In our neighborhood all the parents knew each other, and all the kids roamed free. It was a unique time where parents didn't worry because all the moms were watching all the kids. Ours was a favorite neighborhood mom. She welcomed all our friends, enabled numerous sleep overs and sleep-outs, and made sure we had everything we needed to create our own fun. Summers were especially fun as mom helped put together neighborhood fairs, impromptu plays in our basement, trips to Tastee Freeze, and trips to the drive-in movies in her Buick Skylark convertible. Almost every day she would take us swimming across the street at Jo's pool where the entire neighborhood gathered to show off their swim strokes and dives. Mom was the consummate PTA President in the elementary school we all attended. She made sure we all had Red Cross swim lessons and we all had piano lessons. She was also a 4-H leader and the reason her daughters and their daughters can sew and bake an apple pie. Our parents were careful to take care of our spiritual needs making sure we all had the sacraments of the Catholic Church. Our mother's life revolved around her children, but it was her marriage that took center stage. Our parents never hesitated to call a babysitter so they could go out dancing- many of those nights at the Elks Club. And when they danced at parties and wedding receptions people stopped to watch. Mom loved planning parties and we always knew when a party was in the making. She would get her hair done up in a bouffant and put on her red lipstick along with her favorite Shalimar perfume. However, it was her inner beauty combined with an innate ability to make everyone around her feel accepted and important that won the hearts of so many. All the years Bob was Councilman of the town of Lockport, Kay was his greatest advocate. As the children got older, she branched out on her own. She earned a career at the Niagara County Treasurer's Office as secretary to Lloyd Paterson and worked there until her retirement. We remember our mother for her forever young attitude evidenced by her: joining a yoga class in her mid-80's; exploring new places in travels around the country; always dressing in current styles; and loving all kinds of music from Moody Blues to Michael Buble. We remember our mother for all the times she was there to help heal broken hearts and those trademark words of encouragement she repeated over the years, "You can do it!" Most of all we remember our mother's unconditional love that will live on in her seven grandchildren, seventeen great grandchildren, and ten great-great grandchildren.
Relatives and friends are invited to a Mass of Christian Burial to be celebrated Friday, June 24th at 10 AM in St. John the Baptist RC Church, 168 Chestnut St., Lockport. Interment will be in Orangeport Cemetery.
To send flowers to the family or plant a tree in memory of Katherine DeNeau, please visit Tribute Store
Mass of Christian Burial
10:00 am
Friday, June 24, 2022
St. John The Baptist R.C. Church
168 Chestnut Street
Lockport, New York, United States
Prudden And Kandt Funeral Home, Inc. - Personal Dignified Service Since 1876