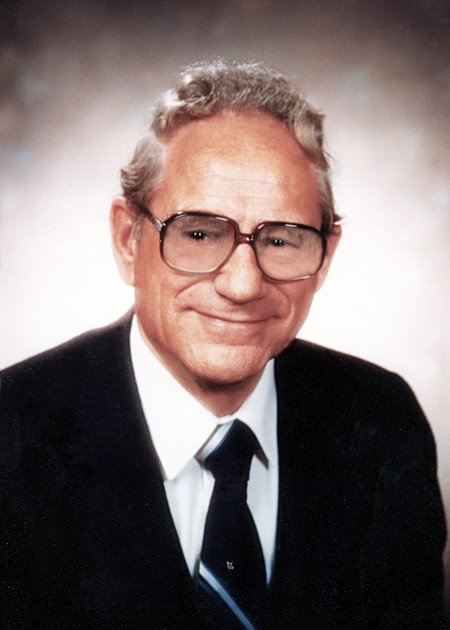 Share Your Memory of
Elmer
Obituary of Elmer A Granchelli
Elmer A. Granchelli, lovingly known as "Mr. G", went to be with the Lord on Saturday, June 5, 2021, on his 93rd birthday. A prominent real estate entrepreneur, Elmer was blessed to be surrounded by family and friends at his home in Lockport, where he felt most at peace.
He is survived by his beloved wife Vel A. Patrick Granchelli, his son James J. Granchelli and his wife Julie, daughter Renee A. Granchelli, and daughter Lisa M. Price and her husband Frank. He was blessed with 12 grandchildren: Adrienne Wolff , Connstance Granchelli, Summer Price Lamborn, Paige Price Thompson, Frank Price II, ReAnne Granchelli Daylamani, Jaime Granchelli, Joseph Granchelli, Patrick Granchelli, Victoria Granchelli, Michaela Granchelli Marco, James (JJ) Granchelli, followed by eight beautiful great grandchildren. Also surviving is his brother Dick Granchelli and his wife MaryLou as well as many nieces and nephews.
Elmer was born June 5, 1928, in Lockport, New York, the son of Joseph and Maria (Mary Petrocco) Granchelli. In addition to his parents, he was predeceased by siblings Etta Marrotta and her husband Sam, Marge White and her husband Lawrence, Silver Granchelli and his wife Ruth, Amelia Farchione and her husband Pat, Albert Granchelli and his wife Margaret, and Marion DiTullio and her husband Alfred. Also in remembrance are Amelia Granchelli the first and Elmer Granchelli the first, Joseph Granchelli, Jr., deceased as infants. His deeply devoted office staff of many years — Kelli Alaimo, Renee Granchelli, Dan McDonald, Kevin Teeter and Laurie Kropp — along with family members, will forever cherish his leadership and continue to build on his accomplishments.
Elmer graduated from Lockport Senior High School in 1947. Following graduation, he went to work at Simon Steel and Harrison Radiator. Although he considered it an honor and privilege to work for these companies, it did not take him long to change his path to becoming a self-taught entrepreneur. Elmer, along with his wife Vel, established his real estate management companies, E.A. Granchelli Developing; Velco, Inc.; and Centennial Development, Ltd.; starting out as a small plumbing, wiring and mechanical service company. Then with the construction of a gasoline station in 1958 and two additional stations in Wrights Corners and Lockport, the company began building in Wrights Corners with the Tops Markets Plaza – now known as the Wrights Corners Plaza, the former NYS Troopers Barracks on Ridge Road and others.
In 1963, the E.A. Granchelli Developing Company was consulted by the Lockport Urban Renewal Committee for input on the development of the first of several urban renewal projects. This led to the construction of the Greyhound Bus Terminal on Walnut Street, Lockport Savings & Loan, Jay's Drugstore, Heritage Square Plaza, Manufacturers Hanover Trust Bank building and many other projects. In addition to completing nine urban renewal projects in the city of Lockport, the company went on to purchase and/or renovate more than forty other parcels in the city of Lockport, town of Lockport and town of Newfane. Mr. Granchelli's companies have consistently maintained the esteemed honor of being on the city of Lockport's "Top Ten" list of the highest taxpayers.
Elmer's companies remain steadfast and continue to serve Niagara County to this day. He shared his business philosophy with many, believing there is no such thing as being in the right place at the right time. He believed in hard work, long hours and taking the element of risk to make it happen. Luck, to him, is when opportunity and hard work come together. He humbly said that he began with more ambition than money, more nerve than knowledge, and more hope than prospects. He put all he had into his work and family to build in the city he loved. Elmer's unfailing dedication to his hometown of Lockport is evidenced throughout the city of Lockport and Niagara County. It was his pride of hometown which fueled his desire to preserve the Palace Theatre from the urban renewal wrecking ball. His company personally renovated, maintained and ran the theater for more than 25 years to keep the nostalgic and beautiful property a part of Lockport's history, as well as open heartedly providing many jobs for Lockport's young people throughout the years. It was his pleasure to hand the property over to the current operating entity, Historic Lockport Palace Theatre.
In addition to making these major contributions to Niagara County's economy, Elmer and his wife were avid supporters of local youth and the organizations that help guide them. They have been enthusiastic backers of the An-Jo Baseball League for many years; contributors and supporters of the NYS Special Olympics, Cantalician Center for Learning, Northpointe Council of Niagara County, Family & Children's Services, Mental Health Association of Niagara County, United Way, Catholic Charities, Chamber of Commerce, Lockport Business Association, Zonta Club of Lockport, Save the Michaels of the World, Historic Palace Theatre, and numerous other organizations and individuals in need. They also founded the SUNY football program Dominic Grossi award, and Elmer was a longtime member of the Lyman A. Spalding Society (established by United Way) for outstanding contributions to Eastern Niagara United Way. Elmer also donated parcels of land to Niagara Hospice and the First A.M.E church of Lockport.
Elmer was a consultant to the University of Buffalo Corporation, responsible for providing design, site planning, spear heading The Pillars at Baird Point/Lake LaSalle, leasing requirements, and financing and construction of the commercial office and hotel complex built on the Amherst Campus of the State University of New York at Buffalo. He was also a recipient of the Ken Ford Award, presented by the Alcoholism Council of Niagara County for his continuous support of the Alcoholism Council with continued commitment and dedication, and a 2000 inductee into the Lockport Historic Walk of Fame. As a devoted servant of the Lord, Elmer was a loyal member of the former Saint Anthony's Roman Catholic Church and the current All Saints Roman Catholic Parish in Lockport.
Elmer's passion beyond his family and his work was his love for tennis and skiing. He looked forward to friendly competition and pursued matches with younger opponents who would challenge him physically and mentally. His biggest joy playing tennis was the many years racking up countless hours on the court with his dear friend and tennis buddy Dr. Peter Mascari. Elmer was also an avid skier. Ellicottville, NY, was Elmer's home away from home. He spent many years enjoying his family and friends at his beloved ski chalet nestled on the mountainside of Holiday Valley. It gave him such pleasure that he often referred to it as "God's country." Despite all the career accolades and accomplishments Elmer received, he was most proud of the beautiful relationship he had with Vel, his beloved wife of 65 years, whom he adored. He also treasured his family and the many rich friendships he developed throughout his long life.
Relatives and friends may call Friday June 11, 2021, 3:00pm-7:00pm at Prudden & Kandt Funeral Home, 242 Genesee Street, Lockport, New York 14094. Mass of Christian Burial will be celebrated Saturday June 12, 2021 at 12:00 noon at All Saints Roman Catholic Church, 76 Church Street, Lockport NY 14094. Entombment will be in Glenwood Mausoleum. Those who wish to remember Elmer in a special way please donate in his memory to Niagara Hospice. Visit pruddenandkandt.com.
To send flowers to the family or plant a tree in memory of Elmer Granchelli, please visit Tribute Store
Calling Hours
3:00 pm - 7:00 pm
Friday, June 11, 2021
Prudden & Kandt Funeral Home, Inc.
242 Genesee Street
Lockport, New York, United States
Mass of Christian Burial
12:00 pm
Saturday, June 12, 2021
All Saints Parish
76 Church Street
Lockport, New York, United States
Prudden And Kandt Funeral Home, Inc. - Personal Dignified Service Since 1876