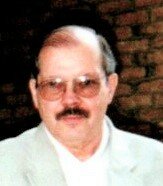 Wallace G. Swader
Wallace G. Swader passed away May 22, 2023. Born March 5, 1937 in Akron, NY, he was the son of Walter A. and Frances C. (George) Swader. Wallace graduated from Akron High School and was active in sports (football) and student council. He attended Alfred State College. Wallace served in the US Navy and National Guard for 20 years. He worked 38 years for Harrison Radiator Div. of GM where he was a Tool & Die Maker. He enjoyed telling jokes, skeet shooting, bowling, gardening, and rescuing animals. Most of all, he was a loving husband and father. He was a kind and charitable man. He was respected by all who knew him.
Wallace is survived by his wife Patricia (Hedden) Swader; children Tammie Tuttle (Murray Wire) and Donald (Wendy) Tuttle; granddaughter Kayleigh Marie Tuttle; brothers Douglas Swader and William Swader.
Relatives and friends may call Thursday, May 25th from 4-7 PM at Prudden & Kandt Funeral Home. A private graveside service will be held in Wrights Corners Cemetery. Visit pruddenandkandt.com.