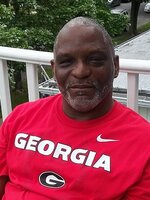 Robert McClain
Robert L. McClain passed away May 15, 2023. Born April 23, 1963 in Eustis, FL he is the son of Russell (Rose) McClain, Sr. and the late Gladys (Roberts) McClain who passed away in 1991. Robert earned his Associates degree and worked for The Summit Center in Buffalo where he was a teacher assistant and direct support professional. He was an avid sports fan, enjoyed working with the elderly, and had a big heart for children with special needs.
Besides his father, Robert is also survived by his siblings Russell (Stephanie) McClain, Jr., Shelia Tomlinson, Lisa McClain, Joyce Davis, and Kathy Walker; uncle to Demetra DeLee, Ikea Edwards, Shanekia Hightower, Sequoia Worrell, Ebony Emanuel, Todd Walker, Obrian Tomlinson, and Javeon Tomlinson; also a host of aunts, uncles, cousins, and great nieces and nephews.
Relatives and friends are invited to a graveside service on Saturday May 27, 2023 at 11 AM in Cold Springs Cemetery, 4849 Cold Springs Rd., Lockport. Visit pruddenandkandt.com.