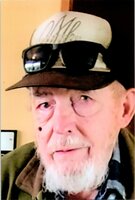 Marvin H. Alexander
Marvin H. Alexander passed away March 15, 2023 in Mount St. Mary's Hospital, Lewiston. Born October 6, 1931 in Lockport he was the son of Harry and Martha (Rosenberg) Alexander. Marvin worked for Frontier Stone in Lockport in maintenance. He enjoyed hunting and being outdoors. Marvin was predeceased by his wife, Grace Alexander.
Marvin is survived by his children Charlene (Shawn) Dent, Darryl (Sheryl) Alexander, Doyle Alexander, Ronald (Donna) Alexander, Beverly Drinkwalter, and Duane Alexander; several grandchildren and great grandchildren; siblings Larry (Susan) Alexander, and late Roger Alexander and Virginia Dersarkissian.
Relatives and friends may call Wednesday, March 22nd from 4-7 PM in Prudden & Kandt Funeral Home, 242 Genesee St., Lockport where funeral services will be held Thursday, March 23rd at 10 AM. Interment will be in Cold Springs Cemetery.