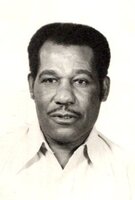 Vincent Mahorne
Vincent Mahorne passed away January 22, 2023 under the care of his family and Niagara Hospice. Born October 22, 1930 in Kingston, Jamaica he was the son of Joseph and Clementina (Wells) Mahorne. Vincent worked for Simonds Saw & Steel in Lockport retiring in 1989. He enjoyed listening to all kinds of music.
Vincent is survived by his wife Earnestine (Murry) Mahorne; daughter Karen Mahorne and a son and daughter both in Jamaica; two grandchildren and two great grandchildren.
Relatives and friends may call Thursday, January 26th from 11 AM – 1 PM with interment following in Cold Springs Cemetery. Visit pruddenandkandt.com.