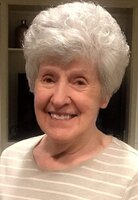 Edith R. ""Edie"" Giazzon
Edith "Edie" Giazzon, 93, of Lockport, passed away peacefully January 20, 2023. Born March 28, 1929 in Graceton, PA., she was the daughter of Italian immigrants Pasquale and Severina (Baccarini) Sandolfini and was the last living of eleven children. Well loved by those who knew her, she was a woman of an almost inexhaustible energy with a kind and generous heart. An excellent cook, Edie took pleasure in opening her house and table to all who came to her door. She and her husband Eugene loved gardening and canned several hundred jars of spaghetti sauce, fruits and vegetables yearly. Her hobbies were her home and family. She was a retiree of Norton Laboratories.
Edie was predeceased by her husband Eugene in 2017. Also brothers Leno, Tulio, Bruno, Arnold, James and Albert and sisters Rena (Satori), her twin Erma (Hegedus), Hilda (Pratt) and Mary (Doby). She is survived by her children Maria (Mark) Gamble, Benjie (Judy) and Joseph (Joan); grandchildren Rhiannon, Marisa, Jessica, Angela, Michael and Paul and great grandchildren Christian, Layne, Harper, Iris. She is also survived by many nieces and nephews. We would like to thank the staff at Northgate Hospice for the care they gave our mom.
Relatives and friends may call on Wednesday January 25, 2023 from 3:30-5:30PM where a funeral service will immediately follow at 5:30PM. Interment will be in Cold Spring Cemetery. In Lieu of flowers, memorials to Niagara Hospice would be appreciated by the family. Visit pruddenandkandt.com.
Live Stream of Funerl Link Below: