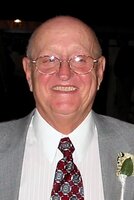 Donald R. Enderby
On January 18, 2023, Donald Ray Enderby passed away peacefully at the age of 92, surrounded by his adoring family. Loving husband of Mary Enderby, devoted father of four children, Roxanne Kipler, Scott Enderby, Sandra Lahrache, and Derrick (Kim) Enderby and affectionate grandfather of RJ (Trina) Pool, Zahra Lahrache, Grayce Enderby, Zach Lahrache and Calvin Enderby. Also survived by his step-children Larry, Ron and Jeff Kinn.
Don was proud of his experience serving his country as a paratrooper between 1948-1952. His military service was the foundation of a life full of adventurous activities and a passion for excitement. He lived a big life for sure.
Above all, Don cherished spending time with his family at his cottage on Lake Ontario--sailing, boating, fishing and just enjoying the presence of the people he loved most. Nothing gave him more joy and sense of accomplishment than the time he spent in the presence of his affectionate family.
A private celebration of his life will be held at the convenience of his family. Memorials can be made to Niagara County Hospice.