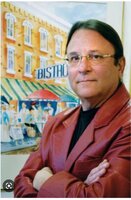 Joseph J. Buczkowski
Joseph J. Buczkowski passed away January 12, 2023 under the care of Niagara Hospice. Born July 1, 1949 in Lockport he was the son of Chester and Theresa (Vitone) Buczkowski. Joseph worked for Praxair in Tonawanda, NY where he was a project manager and was a local artist working with watercolors. He was also the art director of the Market Street Art Center. Joseph enjoyed golfing, woodworking, and especially enjoyed spending time with his family.
Joseph is survived by his wife Karen (Whitmore) Buczkowski; children Christopher Buczkowski and Andrea (Jennifer DeSaegher) Buczkowski; siblings James (Barbara) Buczkowski, John (Judith) Buczkowski, and the late Paul Buczkowski and Anita Tice; in-laws Frances Buczkowski and Daniel Tice; also several nieces and nephews.
Relatives and friends may call Saturday, January 14th from 2-5 PM in Prudden & Kandt Funeral Home, 242 Genesee St., Lockport. Visit pruddenandkandt.com