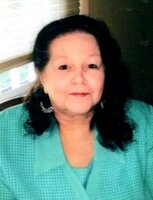 Phylis Ham
Phylis Ham passed away January 9, 2023 under the care of Niagara Hospice. Born December 2, 1947 in Medina she was the daughter of Philip and Virginia Schepis. She worked at Our Lady of Peace Health Care Facility in Lewiston where she was a social worker. Phylis enjoyed camping, vacationing, going to the casino, and volunteering at various places in the Western New York area.
Phylis is survived by her husband of 55 years Walter D. Ham; children Matthew (Melissa) Ham, Brian (Krista) Ham, and Tammy Ham; grandchildren Justin Ham, Megan Rose, Mason Ham, Joshua Ham, Sara Ham, and David Upton; brothers Tony (late Cheryl) Schepis, and the late Joseph Schepis and Samual (Percilla) Schepis.
Relatives and friends may call Thursday, January 12th from 4-6 PM in Prudden & Kandt Funeral Home, 242 Genesee St., Lockport. Interment will be in Cold Springs Cemetery.