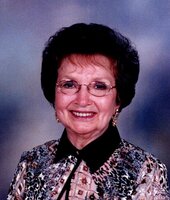 Marian V. Majka
Marian V. Majka passed away November 21, 2022 in Niagara Hospice House. Born February 19, 1930 in Buffalo she was the daughter of Joseph and Veronica (Trybuszewski) Grudzinska. Marian worked for Utah State University in Logan, UT where she was an executive Secretary. She enjoyed cooking, baking, and spending time with her family.
Marian was predeceased by her husband Floyd Majka on October 15, 2017. She is survived by her three sons Andrew (Lynne) Majka, Philip (Sue Ann) Majka, and Anthony (Holly) Majka; five grandchildren and five great grandchildren; also several nieces and nephews. Marian was predeceased by her granddaughter Hillary.
Relatives and friends may call Sunday, November 27th from 3-7 PM in Prudden & Kandt Funeral Home, 242 Genesee St., Lockport. A Mass of Christian Burial will be celebrated Monday, November 28th at 10 AM in All Saints Parish, 76 Church St., Lockport. Entombment will be in Queen of Heaven Mausoleum. In lieu of flowers donations to Niagara Hospice, 4675 Sunset Dr., Lockport, NY 14094 or to the St. Jude Center, 760 Ellicott St., Buffalo, NY 14023 would be appreciated. Visit pruddenandkandt.com.