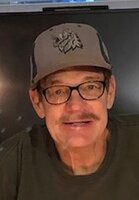 Michael L. McClanahan
Michael L. McClanahan passed away on Saturday November 19, 2022. Born in Baxter Springs, Kansas, he was the son of the late Edward and Joyce Ivey McClanahan. Michael retired in 2009 from Yellow Freight in Tonawanda after 36 years as a dock worker. He coached baseball and girls softball for over 0 years at Lockport Little League and Anjo.
Michael is survived by his wife of 44 years, Barbara (Haase) McClanahan, his son Ryan (Holly) McClanahan and grandchildren Kegan, Ivy, Faith, Raelyn and Kensley. Michael is predeceased by his brother Jeff McClanahan.
There will be no prior visitation. Private services will be held at the convenience of the family. Online condolences at www.pruddenandkandt.com.