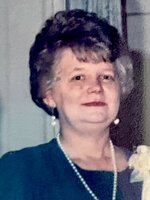 Virginia M. LaRusso
Virginia M. LaRusso passed away November 15, 2022. Born May 1, 1934 in Gowanda, NY she was the daughter of Arnold and Hazel (Whelen) Lindquist. She was a Licensed Practical Nurse for 40 years starting her career at Gowanda State Hospital, and retiring from Mount View HCF retiring in 2002. Virginia was a member of the Navy/Marine Club and enjoyed playing card and BINGO. She was predeceased by her husband Samuel J. LaRusso, and son Kenneth (Diane) Hintz.
Virginia is survived by her children James (Robin) LaRusso, June LaRusso, Samuel LaRusso, John LaRusso, Russell LaRusso, and Patty (Russell) Gardner; five grandchildren and ten great grandchildren.
Private graveside service will be held in Wrights Corners Cemetery.