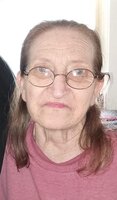 Roberta L. Prahler
Roberta L. Prahler passed away November 7, 2022 under the care of Niagara Hospice. Born September 19, 1950 in Wellsville, NY she was the daughter of Lester and Josephine (Boneham) Aldrich. Roberta worked for the Lockport City School District where she was a lunch monitor. She enjoyed cross stitching, painting, and baking. Roberta was predeceased by her husband John H. Prahler, daughter Donna Jo Prahler, and in-laws Bernard and Evelyn Prahler.
She is survived by her daughter Jamie (Junior Schultz) Spry; grandchildren Dylanger (Amber) Spry, Randy Wolf, Kirsten Wolf, Hailey Sewar, and Jayden Sewar; great grandchildren Madison Spry and Donna Wolf; several siblings; brother-in-law David (Janet) Prahler; and several nieces and nephews.
Private serves will be held, and interment will be in Chestnut Ridge Cemetery.