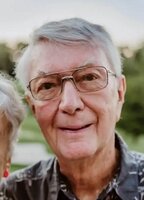 Clinton J. Starke
Clinton J. Starke passed away peacefully November 1, 2022 at Niagara Hospice House in Lockport, NY. Born October 5, 1929 in Jefferson City, MO he was the son of the late Irvin L. (Pete) and Odelia (Tillie) Walterscheidt Starke of Jefferson City.
Clint attended the University of Missouri graduating in 1954 with a Bachelor Science degree in Chemical Engineering. He was elected to the Mystical Seven (Senior Men's Honorary). He was in the U.S. Navy from 1948 to 1950 and again from 1955 to 1957. He and his wife Joanne owned and operated Mecorney's Decorating Center on Main St. in Lockport during the 80's and 90's.
He was tireless in his servitude to his community and business by volunteering in many organizations over the years. He amassed an abundance of accolades over his lifetime including Citizen of the Year 1994 and Recipient of "Key to the Locks" Award, May, 2009. Clint acted in many leadership roles; sitting as President of many organizations (including but not limited to Phi Kappa Theta National Fraternity and their Foundation, Lockport Lions Club, Lockport Town and Country Club, and Niagara County Historical Society), Chairman of the Board (Eastern Niagara Chamber of Commerce and Dale Association), and Board Member (including but not limited to Lockport Memorial Hospital, American Red Cross Lockport Chapter, and Challenger Learning Center). He was an endless booster of all things Lockport and was an avid local historian. He enjoyed golfing, working in his yard and garden, and spending quality time with his family and friends.
He is survived by his wife of 69 years Joanne (Hilger) Starke and his six children; David (Jan) Starke, James Starke, Diane (Joseph) Noto, Michael (Kris) Starke, John (Joyce) Starke, and Sharon (Stan) Meng. He is also survived by 19 grandchildren and 16 great-grandchildren.
Relatives and friends may call Friday, November 4th from 4-8 PM in Prudden & Kandt Funeral Home, 242 Genesee St., Lockport. A Mass of Christian Burial will be celebrated Saturday, November 5th at 10 AM in St. John the Baptist RC Church, 168 Chestnut St., Lockport. Memorials may be made to the Lockport Lions Club or the Niagara County Historical Society.