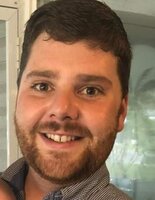 Brian C. Lenhart
Brian C. Lenhart, 35, of Lockport, NY passed away unexpectedly on October 24, 2022. Brian worked at Cornerstone Federal Credit Union where he recently was promoted into the Fraud Department. While working at the bank Brian was considered a beloved family member and teammate of the Cornerstone Family. Brian loved spending time with his Family and Friends. Brian enjoyed Jukeboxes, Kayaking, Nature, Math and Roman History.
Brian is proceeded by his father Ronald E.Lenhart and survived by his mother Lorraine M. Lenhart. His sisters Erica ( Swann ) Newton and Stephanie Lenhart. Nephews Joshua Swann and Tyler Swann. Team Cousins Erika Lenhart and Briana ( Lenhart ) Rivera. Brian is also survived by many Aunts, Uncles, Cousins, and Friends.
Relatives and Friends may call Saturday, November 5th from 12 - 2 pm in Prudden & Kandt Funeral Home, 242 Genesee St., Lockport. Following will be a Celebration of Life at Brad Angelo Lanes ( Back Alley Bar & Grill ) from 2 - 5 pm. In lieu of flowers donations to the American Cancer Society or to a charity of one's choice.