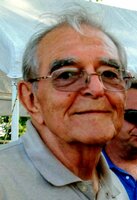 John D. Joensen
John D. Joensen passed away September 27, 2022 in Lockport Rehab & Health Care Center. Born May 27, 1936 in Lockport, he was the son of Anker and Gertrude (Will) Joensen. John served in the US Army from 1959 until 1961. After graduating from SUNY Brockport and getting his Masters Degree he taught for over 30 years for the Newfane Central School District. John was a life-long New York Yankees fan. He loved his 'second' home, the 1000 Islands, where he lived during the summer for over 60 years. Fishing and boating there was a big part of his entire life. He enjoyed teaching his children and grandchildren about the history of the 1000 Islands region.
John is survived by his wife of 60 years, Patricia (Shanley) Joensen; children Molly (Jack) Kirchberger, Jr. and the late Mark Joensen; grandchildren Daniel (Millie), Alex and Ellie Joensen and Kyle, Emily (Kirchberger) Seitz and Jordan Kirchberger. Besides his son he was also predeceased by his siblings Paul Joensen, Robert Anderson, and Joanne Darlich.
Relatives and friends are invited to a Mass of Christian Burial to be celebrated Friday, October 14th, 2022 at 10:00 a.m. at St. John the Baptist RC Church, 168 Chestnut St., Lockport. Inurnment will be in Queen of Heaven Cemetery. Visit pruddenandkandt.com.