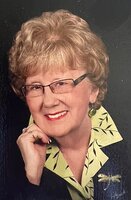 Charlene Seekins-Smith
Charlene Seekins-Smith passed away August 30, 2022 in Eastern Niagara Hospital. Born in Sanborn, NY on July 11, 1932 she was the daughter of Fillmore and Olive (Bodie) Marshall. Charlene has spent her business career of over 68 years at the Bewley Building working for the Bewley family for over 68 years. Straight out of Bryant and Stratton Business College she began working for Charles Bewley in 1951, The real estate, insurance and development office provided endless opportunities for Charlene's boundless energy. In 1984 after Charles Bewley's passing, Charlene purchased the Bewley Insurance agency renaming it Bewley -Seekins-Smith Insurance and continued running it while also managing the Bewley Building.
Charlene's energy and drive also saw her participating in numerous City committees, boards and projects as well as community service organizations. She is a past recipient of Business Person of the Year in 2003, Small Business of the Year as well as Citizen of the year awards in 1999. She was honored as a Paul Harris Fellow by the Rotary Foundation of Rotary International. She also served as chairperson and founding member of Lockport Main Street Inc.
Being community minded Charlene was involved with the Light Up Lockport Committee, the Dale Association Development Committee, and Lockport Central Business District Parking Committee. She was past president of the Greater Lockport Insurance Women's Club, past president of the Lockport Independent Insurance Agents Association, the Health Association of Niagara County Board of Directors, chairperson of the Hamilton House Restoration Committee, served as second Vice President of the Zonta Club, served on the campaign for the United Way, and was vice chairman of the Apple Festival.
Charlene was an active member of the First Presbyterian Church in Lockport where she served on the Board of Elders, Finance Committee, Chairperson of House & Grounds Committee, and on the Happy Times Board. She has also completed numerous terms on the Board of Presbyterian Senior Care of WNY serving as treasurer. She won the Merit Award from the Eastern Niagara Chamber of Commerce and the Lifetime Achievement Award from the Lockport Business Association.
Charlene passed her insurance agency on to her son as well as the title of manager of the Bewley Building, she continued to have daily input into both businesses and maintained her enthusiastic support of downtown Lockport.
Charlene was predeceased by her husbands Allan Seekins on May 24, 1980 and Ronald Smith on March 8, 2015. She is survived by her son Jeffrey (Edward M. Dzioba) Seekins; step-sons Thomas Lee (Pamela Caldwell) Smith, Martin (Kathryn) Smith, and the late James (Mary) Smith; several grandchildren, great grandchildren, nieces, and nephews; and dear friend Eileen Smith. Charlene was also predeceased by her siblings Franklin (Wilma) Marshall, Mary (late Bob) Corliss Stahl, and Phyllis Ebling.
Relatives and friends may call Friday, Sept. 2nd from 3-6 PM in Prudden & Kandt Funeral Home, 242 Genesee St., Lockport where funeral services will be held Saturday, Sept. 3rd at 10 AM. Interment will be in Cold Springs Cemetery. Donations in Charlene's name to the First Presbyterian Church, 21 Church St., Lockport, NY 14094 would be appreciated. Visit pruddenandkandt.com.