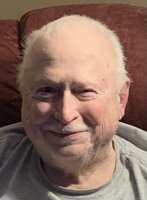 John A. Masters
John A. Masters passed away August 20, 2022 at Erie County Medical Center. Born March 19, 1947 in Niagara Falls, NY he was the son of Leslie and Frances (Maacks) Masters. Before retiring, John last worked for Opportunities Unlimited in Niagara Falls where he was a social worker.
John is survived by his wife of 26 years, Marjorie (Meloon) Masters; children Benjamin Masters and Jessica (John) Cecchini; and step-son Jonathan (Lisa) Hupf. He was predeceased by his son Daniel. He is also survived by, grandchildren Sarah, Gage, Rene, Bridget, John, and Tyler; six great grandchildren; brothers Leslie "Bear" (Linda) Masters, Tom (Melody) Masters, and Jim "Pink" (Marcia) Masters; also several nieces and nephews.
Private services will be held at the convenience of the family. Visit pruddenandkandt.com.