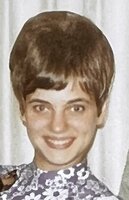 Katherine W. Bilbrough
Katherine Bilbrough died on August 15, 2022 in Lockport. Born October 23, 1945, she was the daughter of John and Elizabeth Litz Wilson. Her husband of 31 years, Jeffrey Bilbrough, died in 1998.
A 1963 graduate of De Sales High School, Kathy attended Daemon College. She worked for 25 years as an administrator in the athletics department at Syracuse University. In 1997, she returned to Lockport to care for her parents.
Kathy was a member of All Saints Parish, the Niagara County Historical Society, the Dale Association, Friends of the Lockport Library, and Friends of the Iroquois Wildlife Refuge.
Surviving are three stepchildren, Allyson Bilbrough of Watertown, CT, Barbli Pawlewitz of East Hampton, CT, and Benjamin (Lisa) Bilbrough of Long Island City, NY; eight step-grandchildren; and lifelong friend Sara Kenney of Lockport.
Services will be private. Remember Kathy with a random act of kindness.