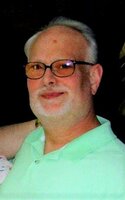 Paul D. Weseman
Paul D. Weseman passed away August 11, 2022 after a brief illness in Millard Fillmore Suburban Hospital. Born December 10, 1951 he was the son of the late Richard and Grace Weseman. Paul was a proud graduate of Lockport Senior High School Class of 1970 and he worked at his father's business, Plaza Texico Service Station for many years. He was an avid NASCAR fan all his life, loved going to the races in his early years. Paul also enjoyed traveling and swimming.
Paul is survived by his wife of 43 years, Jule (Travers) Weseman; brothers Larry (Wende) Weseman and Allan Weseman; also several nieces, nephews, cousins, and two aunts. He was predeceased by his brother-in-law and best friend Robert Travers, whom he loved with all his heart.
Private services will be held at the convenience of the family. Memorial donations to Mercy Flight, Development Dept., Flying Tigers, Buffalo Airport, 100 Amherst Villa Rd., Buffalo, NY 14225 or at www.mercyflight.org would be appreciated. Visit pruddenandkandt.com.