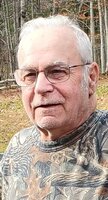 Philip M. Baughman
Philip Melvin Baughman passed away August 7, 2022 at the age of 78 in Niagara Hospice House with his wife by his side. Born September 18, 1943 in Niagara Falls, NY, he is the son of Adeleine (Spicer) Baughman and the late Melvin H. Baughman. He was a graduate from Niagara Wheatfield, and served in the Army National Guard for 6 years. He worked for National Fuel, in Niagara Falls for almost 40 years where he was a heavy equipment operator, retiring in 2004.
Phil was a highly skilled backhoe operator; who was often called on to do the tough jobs. His love for making a machine run like a champ continued at home; besides running backhoes, he loved to be on his orange tractor. He enjoyed farming a small family plot; he especially loved growing tomatoes and potatoes! Phil was a dedicated man, who always put his family needs first. He built his own house with his wife Linda, and was very proud of the home he built for his family. He then continued his carpentry skills by building a garage that included a woodworking shop. Phil spent countless hours meticulously making beautiful pieces of furniture for family members. He showed his love in the furniture he gave to others; through the labor of his work. You could always find him listening to country music in his garage fixing and maintaining things. He was the go to guy; when someone couldn't fix something, they would often come to Phil for help. He enjoyed figuring things out and finding solutions. He often helped his late son Dan with his # 8 street stock car. If the boys couldn't fix it, he would. Phil enjoyed watching the races and was a fan of Nascars #3. He could often rattle people like Earnhardt the Intimidator; he may not have told you what you wanted to hear, but it was quite often what you needed to hear. He was respected for his truthfulness. If Phil wasn't at home then you could find him enjoying the great outdoors at his camp in the southern tier. He enjoyed target practice with his bow, and firearms. In his younger years he was a competitive archery member of the 7 Clan. At camp he enjoyed riding his 4-wheeler around the property. His true love was hunting deer with a bow. He loved sitting in his stand enjoying the peace and quiet, and watching the wildlife around him. Phil enjoyed living a simple life; with simple things. One of his favorite sayings was, "life doesn't have to be complicated; people just make it that way". He was proud of all the things he worked hard for and accomplished. His greatest pride in life was his children and his grandchildren.
Besides his mother, Philip is also survived by his wife of 55 years, Linda (Rhinehart) Baughman; oldest daughter Deanne Baughman and her children Brandon and Ashely Brassard, and his youngest daughter Debra (Jake) Cady; their three children Alyssa, Jenna, and Hailey Cady. He was also predeceased by his son Daniel Baughman.
Private services will be held at the convenience of the family. Private interment services will be in North Ridge Cemetery. In lieu of flowers, contributions can be made to Warrens Corners United Methodist Church. Visit pruddenandkandt.com to leave condolences.