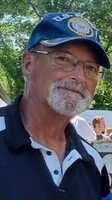 Keith R. Messecar
God saw him getting tired and a cure was not to be. He wrapped him in His loving arms and whispered, "Come with me". Keith suffered much in silence. His spirit did not bend. He faced his pain with courage until the very end. He tried so hard to stay with us. His fight was not in vain. God took him from his loving home and freed him from his pain.
Keith R. Messecar passed away August 2, 2022 at home under the care of his loving family and Niagara Hospice. Born November 29, 1958 in Buffalo he was the son of Donald and Margaret (Crosby) Messecar. He served in the US Navy from 1977 to 1984 and worked in quality control at Carlton Technologies in Orchard Park. Keith enjoyed camping, trains, Jeeps, and cars.
Keith is survived by his wife Robbin (Mallow) Messecar; daughters April (Kreg) Parker and Samantha (Steve) Goff; ten wonderful grandchildren and one very special great granddaughter; sisters Suzanne (Carl) Geib and Janice (David) Powers and numerous nieces and nephews.
Relatives and friends may call Sunday, August 7th from 1-4 PM in Prudden & Kandt Funeral Home, 242 Genesee St., Lockport where funeral services will be held Monday, August 8th at 10 AM. Interment will be in Acacia Park Cemetery. Visit pruddenandkandt.com.