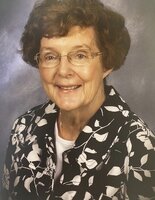 Margaret (Nan) Ann Shaw
Margaret Ann "Nan" Shaw, 94, entered peacefully into heaven to join her loving husband of 53 years, Charlie, on Thursday, July 28, 2022. She was born on October 17, 1927, to Frank and Helen (McCabe) Schaffert. She graduated from St. Joseph's Academy and received her nursing degree from Niagara University. She worked as a floor nurse at Lockport Hospital and then as a surgical nurse at Newfane's Inter-Community Memorial Hospital. Later in her career she worked as a discharge planner until her retirement.
Nan was a church school teacher and volunteer at St. Bridget's Church in Newfane. She served as a Eucharistic Minister for years at St. John the Baptist RC Church in Lockport.
She loved spending time with her three children and nine grandchildren, as well as her brothers, sisters and many friends.
Nan was pre-deceased by Charlie. Together they raised three outstanding children: Dr. James (Julia) Shaw; William (Susan) Shaw, both of Lockport, and Mary (John) Martin of Olcott. She was the proud nana/mina of nine grandchildren: Katie McWilliams, Sarah Shaw, Luke Shaw, Eilise Murphy, Ally Martin, Andrew Martin, Bridget Martin, Hannah Hosey and Sarah Sharp.
Nan was also pre-deceased by her siblings Blanche "Deed" McArthur, Joseph Schaffert, Frank "Bud" Schaffert, Kathryn "Sis" Adams, John "Jack" Schaffert and Helen "Honey" Doyle.
A special thanks goes to all the aid workers from Never Alone and the nurses at Niagara Hospice who cared so wonderfully for Nan over the last 10 months
Relatives and friends may call on Sunday, July 31, from 1-4 pm at Prudden & Kandt Funeral Home, 242 Genesee Street. A mass of Christian Burial will be celebrated at 12 pm on Monday, August 1, at St. John's Church, 168 Chestnut Street. In lieu of flowers, please send memorials to Niagara Hospice, 4675 Sunset Drive, Lockport, NY 14094.