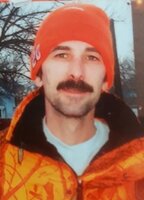 Douglas J. Miller
Douglas J. Miller passed away July 24, 2022. Born November 7, 1964 in Lockport he was the son of Richard "Grubby" and Katherine "Kay" (Grottanelli) Miller. Doug worked for Tops Grocery Store in Medina for eleven years and enjoyed hunting, fishing, bird watching, camping, horseshoes, fireworks, and football being a fan of the Pittsburgh Steelers.
Douglas is survived by his wife of 33 years Jacquelynn (McGraw) Miller; children Darlynn (JR) Miller, Devan Sue Miller, and Douglas "Dougie" Miller; grandchildren Emma Jean Andrews, Thomas "Tommy" Andrews, and Robert "Bobbo" Howitt; loyal pup, Buster; brother Richard (Linda) Miller; in-laws Albert & Grace McGraw, Andrew McGraw, and Heidi (Eric) Siefert; also several nieces and nephews.
Relatives and friends are invited to a memorial service Friday, July 29th at 2 PM in Mount Oliver Lutheran Church, 6965 Chestnut Ridge Rd., Lockport. The Miller Family requests to please com in comfortable clothing, no formal.