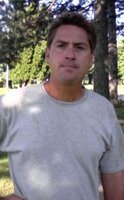 Douglas Lee Olewnik
Douglas Lee Olewnik, age 52, a lifelong resident of North Tonawanda, was set free on July 24, 2022. Born February 28, 1970 in Buffalo, NY, he was the son of the late Leo S. and Diane R. (Kennedy) Olewnik. Doug was employed as superintendent for White Chapel Memorial Park in Amherst, where he worked for many years. Doug was an avid outdoorsman and thrill seeker, even surviving a skydiving adventure. He enjoyed hunting, spending time hiking in the woods, or just relaxing around a campfire at a cabin or at home. Doug was an animal lover, avid Buffalo Bills fan, excellent cook, and was always ready to help anyone in need. He also loved to golf, especially with his good friends at the Third Warder's Social Club in NT, where he had been a member for many years.
Doug is survived by his loving companion, Charlene Knoll and her son Grant; his son Joshua Olewnik; siblings Mary Jane (late Edward) Turner, Joseph (Mary) Olewnik, John (Denise) Olewnik, and Melissa (David) Almeter; also survived by an uncle, aunts, several nieces, nephews, very close friends, and co-workers at White Chapel.
Relatives and friends may call Sunday, July 31st from 2:30-4 PM with Services following at 4 PM all in Freedom Church, 5676 Beattie Ave., Lockport. In lieu of flowers, donations to your local SPCA would be appreciated by the family. Visit pruddenandkandt.com.