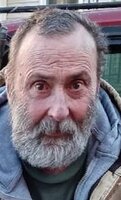 Ronald J. Lamont Sr.
Ronald Lamont, Sr. passed away July 19, 2022. He was born on March 2, 1960 in Linwood, California a son of Richard and Gladys (Moore) Lamont. He was a self employed Truck Driver. Ron loved fishing, motorcycles, spending time with his family especially his grandkids and tipping a few back with his friends.
Ron is survived by his children Daniel Lamont, Ronald Lamont, Jr., Randy Lamont, Shawnna Lamont; grandchildren Leland Marks, Shyann Lamont, Kamron Mincey; siblings Jeannette Lamont, Charles Lamont. He was predeceased by his wife Georgia Vaughn; siblings Roger Lamont, Eugene Lamont, Barbara Lamont.
Private services held at the convenience of the family.