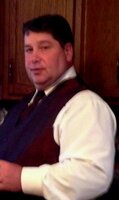 Clayton J. Kelkenberg
Clayton J. Kelkenberg passed away July 16, 2022 in Roswell Park after courageous battle with cancer. He was born on July 17, 1961 in Lockport, NY a son of Richard and Emily (Ribbeck) Kelkenberg. He was a landscaper. Clayton enjoyed NASCAR, fishing, watching sports and spending time with his family, especially his grandson.
Clayton is survived by his wife Pamela (Varney) Kelkenberg; children Nicholas (Jessica) Munn, Clayton Kelkenberg, Jr., Amanda (Jeramery) West, Trisha Kelkenberg, Marshall Kelkenberg, Shannon Kelkenberg; several grandchildren; Siblings Jamie (Alicia) Kelkenberg, Richard Kelkenberg, Susie Kelkenberg, Crystal Kelkenberg, Marie Mondello, Tike Ribbeck, Dawn Meyer. He was predeceased by his sister Bonnie Weaver and brother Ricky Kelkenberg.
Private services held at the convenience of the family.