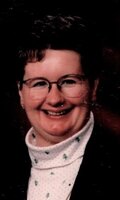 Marilyn C. Youd
Marilyn passed away on July 17, 2022 at Lockport Rehab and Healthcare Center in Lockport. Marilyn was born in Bridgeport, Connecticut on November 17, 1946, the daughter of Earl and Cecelia (Shannon) Youd.
Marilyn joined the Daughters of Charity of St. Vincent DePaul at age 17. She served in several locations including Philadelphia, Albany and twice at Sisters of Charity Hospital in Buffalo. She earned a B.S. in Nursing at St. Joseph College, Emmitsburg, Maryland and an M.B.A. in Human Resources Management from La Salle University, Philadelphia, Pennsylvania.. Marilyn left the Daughters of Charity in 1993. Marilyn's last two positions were as Department Administrator for the Department of Anesthesiology at Roswell Park Cancer Institute and then as Department Manager at the Department of Anesthesiology at the University at Buffalo. Marilyn retired in February of 2011.
Marilyn is survived by her sister-in-law Priscilla Youd of Mississippi and several nieces and nephews, Karen (David) Mills of Tennessee, Chris (Sara) Youd of Georgia, Keith (Megan) Youd of Mississippi, Lisa (Kevin) Smith of Pennsylvania, and Kathy (James) Domorod of Delaware. She also has several great nieces and great nephews. Marilyn is also survived by her long-time friend Dorothy Holtz.
Marilyn was predeceased by her brother Henry Youd, sister Margaret Youd, sister
Madeline Domorod, brother-in-law Walter Domorod, and nephew James Domorod.
Relatives and friends may call Saturday, July 23rd from 9-10 AM with services following at 10 AM all in Prudden & Kandt Funeral Home, 242 Genesee St., Lockport. Donations to Alzheimer's Disease Research, 22512 Gateway Center Drive, P.O. Box 1950, Clarksburg, MD 20871-1950 would be appreciated. Visit pruddenandkandt.com