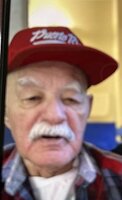 Efrain Borrero-Santiago
Efrain Borrero-Santiago passed away July 10, 2022 in Northgate Healthcare Facility with his family by his side. He was born on March 17, 1945 in Utuado, Puerto Rico a son of Manuel Borrero and Elojia Santiago. Efrain worked as a Landscaper for Russell's in Amherst. When Efrain was in Puerto Rico he was involved with rooster fighting. He enjoyed doing puzzles especially crosswords, cars , but most of all he loved the time he spent with his family.
He is survived by his wife Basilisa Lopez; children Efrain (Maria Cruz) Borrero, Gerardo (Waleska Dudrey) Borrero, Ivan Borrero, Orlando (Sandra Peña) Borrero; grandchildren Ivaris Borrero, Melanie Borrero, Ivan Borrero, Alondra Borrero, Orlando Borrero, Xavier Borrero, Edwin Borrero; great grandchildren Yarelis Pizarro, Jayra Pizarro, Lilianna Ramos, Jaylannis Castillo, Angel Luis Castillo, and Efraín Borrero; siblings Luis Borrero, Esther Borrero, Israel Borrero, Elba Borrero, Leonilda Borrero, Carmen Borrero, Edith Borrero; niece Muriel Molina. He was predeceased by his brother Tono Borrero.
Private funeral services will be held at the convenience of the family.