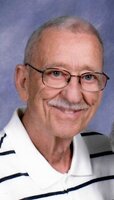 Dean Buchanan
Dean Buchanan passed away peacefully at home in Lockport on June 29, 2022. Born March 27, 1930 in Wilkinsburg, PA and raised in Gipsy PA, he was the son of Joseph Don and Mary Edith (Bair) Buchanan. Dean was predeceased by a daughter, Sharon Swift; and by his wife, Mary (Naculich) Buchanan on September 27, 2020.
Dean gained immense satisfaction by offering care and guidance to others, and gifted family, friends, and complete strangers with interesting, humorous, and remarkable tales of his life journey. He enjoyed traveling extensively across the US with his wife in retirement.
Dean is survived by his children Sandy Shojinaga, Donald (Sharon) Buchanan, David Buchanan, Daniel (Martha) Buchanan, Susan (David) Watts, and Richard Buchanan; twelve grandchildren, and many great and great-great grandchildren.
Private services will be held at the convenience of the family. Interment will be in Cold Springs Cemetery. Visit pruddenandkandt.com.