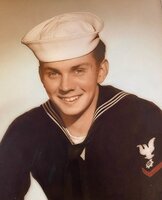 Richard Cunningham
Cunningham - Richard (Dick) Of Lockport, NY, June 28, 2022. He was born on December 16, 1931 in Buffalo, NY; Richard enjoyed horseback riding, fishing and woodworking. Most of all he loved spending time with his family.
Richard proudly served in the United States Coast Guard from 1952-1956. He retired from AT&T in 1989.
Beloved husband of the late Vera (Porpilia) Cunningham; dearest father of Jeanne (Gary) Rogacki, Jill (Kevin) Goodwin, Richard Cunningham; grandfather of Nicole (Kevin) Greig, Michael (Melissa) Butler, Jennifer Wagner, Robert (Lacey) Wagner, Dave (Meghan) Rogacki, Daniel (Jordan) Rogacki, Kate Cunningham; great grandchildren Kyle Greig, Ryan Greig, Jarrett Greig, Isabella Butler, Mikey Butler, Alex Butler, Makayla Wagner, Layla Sypniewski, Xaiden Rogacki, Vander Rogacki;
Son of the late John and Margaret (McCormick) Cunningham; predeceased by siblings; Josephine, Jim, John and MaryLou; also survived by nieces and nephews.
Services to be held at a later date.