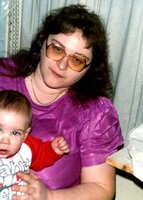 Barbara June Dolan
Barbara June Dolan passed away on Wednesday February 16, 2022 at Mercy Hospital in Buffalo. Born in Buffalo on January 14, 1950, she was the daughter of the late Earl Hagyard and Dorothy Frost Hagyard. Barbara retired from HSBC Bank, where she was an AR Specialist. She enjoyed taking care of her animals, especially her horses. Barbara had a passion for animals and was a member of numerous animal rights organizations.
She is survived by her children James Dolan and Lorianne Dolan; her grandchildren Kira Meyer, Cortney Stephenson, Sean Webb, Shaylynn Dolan, Katie Dolan, Travis Duncan and James Dolan and great granddaughter, Lily Stephenson. Barbara is predeceased by her sisters Dorothy Edmiston and Diana Hachten. She is also survived by several nieces and nephews.
Friends may call on Sunday February 20th from 1-4 PM at Prudden and Kandt Funeral Home, 242 Genesee Street, Lockport. Interment will be in Acacia Park Cemetery. In Lieu of flowers, memorials to any "No-Kill" animal charity, would be appreciated by the family.