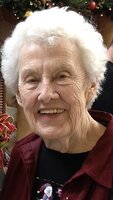 Kathleen Torrence
Kathleen F. Torrence of Lockport, N.Y. died on February 15, 2022 at Heritage Manor in Lockport with her son by her side. She was born in 1924 in Winnipeg Manitoba Canada. She was the daughter of the late Charles and Effie Torrence.
Kay, as she was called by her many wonderful friends, graduated in 1942 from Batavia High School. She worked at Curtiss-Wright Aircraft Manufacturing as an engine mechanic during World War II. She retired from Harrison Radiator Division, General Motors in 1989 after 25 years. Kay was a skilled and avid card player. She was a member of Emmanuel United Methodist Church, Dale Senior Center, UAW Retirees, and The Retirees Travel Club. She was a Democrat and a proud supporter of union workers everywhere. She also supported Niagara County Hospice.
She is survived by a son, Charles D. (Kathleen A.) Croley, a grandson Cole R. Croley, two granddaughters, Laura Croley and Leighann (Daniel) Markes and great grandchildren Damerius S. Davis and Cameron and Marley Ann Markes. She is also survived by a much loved niece Karen (Steve) Wirrig, three nephews, Steve (Kay) Torrence, Daniel (Kim) Torrence and Brian Torrence. She is predeceased by a brother and sister-in-law, Dr. William D. (Eleda J.) Torrence and a nephew Mark A. Torrence.
Arrangements are being made by Prudden and Kandt Funeral Home. A private family interment will be held at Cold Springs Cemetery in Lockport.