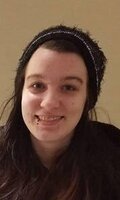 Toni M. Edick
Toni M. Edick passed away unexpectedly on December 1, 2021. She was born on February 6, 1997 in Kissimmee, Florida a daughter of Richard Edick and Kelly (Harrington) Barrett.
Toni worked as a dish washer and prep cook at Kalamata Restaurant in Lockport. She enjoyed roller blading, camping, her Green Bay Packers but most of all spending time with her family and friends.
Besides her parents she is survived by her grandmother Gloria (late John) Harrington; Aunt and Godmother Melissa Ward; Aunt Jean (Eric Kagels) Harrington; step father Johnathen Barrett. Toni is also survived by cousins, many friends and her furry companions Nalla, Dutches, Callie.
Private services will be held at the convenience of the family.