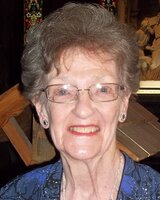 Jeanne Williams
The earth life of Jeanne Carol Williams of Newfane, New York, ended peacefully on November 29, 2021. As promised by her Lord and Savior in faith she has received His gift of eternal life. She was under the loving care of her family, assisted by the staff of Elderwood at Wheatfield and Niagara Hospice.
Born September 16, 1934 in Appleton, NY she was the daughter of the late Hiram and Ruth (nee Klumpp) Ferguson and sister of the late Joan.
Jeanne was a graduate of Barker Central School Class of 1952 and St. Joseph's Academy, Lockport Class of 1953 from the secretarial program. She was employed from 1953 until 1961 at the Cornell Cooperative Extension Niagara County. She enjoyed working with the 4-H program with fond memories of Niagara County and NYS fairs. She returned to work part-time in 1974 and spent 23 years as receptionist for the offices of Dr. Prayoon Prabharasuth.
A lifetime member of Immanuel Lutheran Church, Ridgewood, NY, Jeanne humbly served her Lord best from the age of 14 by sharing her gift of music across generations at Immanuel. She taught Sunday School, organized Christmas programs, and played for many weddings and funerals. A self-taught organist she retired in 2017 after 52 years of faithful service.
While raising her family she participated in her children's activities as well as her own. Any outside activity became a family event, working together, each sharing their talents. Jeanne was a member of the Newfane Inter-Community Memorial Hospital Auxiliary and served as President for two years. Other activities included being Treasurer for the hospital gift shop and volunteering to help at blood mobiles and fundraisers. She enjoyed being a traditional mom and overseeing her household.
Married June 4, 1960 to Roger A. Williams, he predeceased her on March 3, 2009. Together they were blessed with four children. She is the dear mother of Barbara Williams, Newfane, NY; Paul Williams, Newfane, NY; Norma Jeanne (John) Jacobs of Wheatfield, NY; and Robert (Kara) Williams of Orchard Park, NY and the loving Grandma of Siana and Mackenzie Jacobs, Carson and Olivia Williams, and Austin Hoelscher.
She is survived by her brother, James (Martha) Ferguson Lockport, NY, brother-in-law Richard (late Sharon) Williams, Lockport, NY, and sister-in-law Carol (late Rev. Edwin) Williams of Omaha, NE. She was also the sister-in-law of the late David Rhoadhouse and Kathryn (Glenn) Rhoadhouse-Klotzbach of Medina, NY. As an aunt, she is survived by 11 nieces and nephews; 17 great nieces and nephews; and 4 great-great nieces and nephews.
Family and friends are invited to visitation at Prudden and Kandt Funeral Home, 242 Genesee Street, Lockport, NY on Friday, December 3rd from 3-8 PM. Funeral services will be held on Saturday, December 4, 2021 at 10:30 a.m. at Immanuel Lutheran Church, 7147 Ridge Road, New York with the Rev. Kenneth L Craig officiating. Out of respect for others the family has asked that all visitors to the funeral home and church be fully masked. Burial will follow at Wrights Corners Cemetery, Lockport, New York. Memorials may be made to Immanuel Lutheran Church Memorial Fund or a Charity of Choice. Visit pruddenandkandt.com.