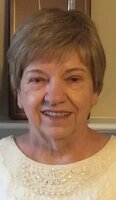 Dorothy Henwood
Dorothy Mae Henwood passed away October 13, 2021 under the care of Niagara Hospice. Born July 27, 1939 in Portland, Maine she was the daughter of Bernard N. and Gertrude F. (Small) Seavey. Dorothy earned her Bachelor's degree in education and was a teacher/administrator at Jack & Jill Preschool in Lockport. She was an active member of Solid Rock Assembly of God Church in Gasport where Dorothy was involved with the Widow's Ministry. Being a pastor's wife Dorothy was an ordained minister with the Assemblies of God for many years. She enjoyed her faith and sharing it and praying for other's, and believing that God will do what He says He will do –standing firm on His promises. Dorothy was predeceased by her husbands Ronald B. Sullivan and John Henwood.
Dorothy is survived by her children Robert (Laurie) Sullivan, Kevin (Diane) Sullivan, and Kimberly (Owen) Holden; grandchildren Nicholas, Ryan, Jordan Mattiuzzo, Duke Carlton, Brandon Sullivan, Catherine Burns, Greggory and Emily Holden, Cassandra Haylett, Joshua, Joseph and Alexandra Vacanti.
Relatives and friends may call Saturday, Oct. 16th from 10-11 AM with services following at 11 AM all in Solid Rock Assembly of God Church, 8590 Rochester Rd., Gasport. Interment will be in Linden Cemetery in Caribou, Maine. Visit pruddenandkandt.com.