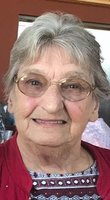 Sally McAninch
Sally K. McAninch passed away July 17, 2021 in Niagara Hospice House. Born September 4, 1940 in Cambria, the daughter of John and Lorraine (Schuler) Devereaux. Sally and her late husband Ron owned and operated the Corner Inn Tavern in Lockport and The Hillside Inn in Cambria. Sally loved being with her family, being outdoors, gardening, and playing Yahtzee while drinking coffee and watching the birds in her yard. She also enjoyed playing euchre. She was predeceased by her husband of 43 years, Ronald E. McAninch in 2000 and son Ronald (Bug) McAninch in 2014.
Sally is survived by her daughters Sally Lemley, Paula (late David) Moore, Lori McAninch, and Tamara McAninch; grandchildren Eric, Leanna (John), Sean (Tammy), David Jr., Anthony (Danielle), Joseph, Aaron, Yvonne (James), Ashley (John), and Terry, twenty-five great grandchildren, one great-great grandchild, and sister Jean Frost, and several nieces and nephews. She was the sister of the late Jacqueline Spedding, Ronald Devereaux, John Paul Devereaux, Carol Quintana, and Annie Speer.
Relatives and friends may call Wednesday, July 21st from 1-4 PM at Prudden & Kandt Funeral Home, 242 Genesee St., Lockport. A short service will follow, and all are invited to attend a Celebration of her Life at the home of and John and Leanna Ohol, 4321 Saunders Settlement, Sanborn following the service. Interment will be Thursday, July 22nd at 11:00 a.m. in Hillside Cemetery. In lieu of flowers donations to Niagara Hospice, 4675 Sunset Dr., Lockport, NY or at www.niagarahospice.org or to American Diabetes Association of WNY, 4955 North Bailey Ave., #217, Amherst, NY 14226 or at www.diabetes.org would be appreciated by the family. Visit pruddenandkandt.com.