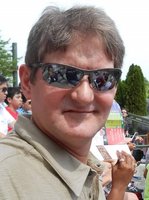 David M. Ransom
David M. Ransom passed away July 7, 2021 in Eastern Niagara Hospital. Born November 4, 1965 in St. Charles, MO he was the son of Jan (Ron) Ransom Balcom and the late the late Omer Ransom. David served in the US Army from 1984-1988 and was a tractor trailer mechanic for Craftsman Industries in St. Charles, MO before relocating to Lockport where he was a stock clerk for Wal-Mart in Niagara Falls. David was active in the Boy Scouts of America and was an Eagle Scout. He enjoyed going to church, watching movies, listening to music, and especially enjoyed spending time with his family.
David is survived by his wife of 18 years, Desiree (Maracle) Ransom; daughter Devon Ransom; step-children Jackie Lynn Jones and Robert B. Jones; sisters Dawn (Ralph) Brancato and Deb Ransom; also several nieces and nephews.
Graveside services will be held Monday, July 12th at 2 PM in St. Patrick's Cemetery.