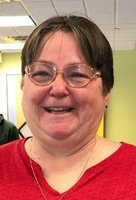 Deborah A. Brown
Deborah "Debbie" (Ceglinski) Brown passed away July 5, 2021 in Mercy Hospital of Buffalo at the age of 65. Born in Buffalo she was the daughter of Audrey (Klein) and the late Andrew Ceglinski. During her career Debbie worked at the Royalton-Hartland Library, the Catholic Diocese of Buffalo Christ the King Seminary, and St John the Baptist in Lockport. From 2013-2017 she was the Pastoral Associate at the Newman Center at UB and was inducted by Bishop Richard Malone in 2018 as the first lay, female Pastoral Administrator in the Buffalo Diocese serving at St. John the Baptist in Alden until her death.
Debbie and Kevin started their family in Texas and then moved back to NY. She was on the Roy-Hart School Board, gave guitar lessons, was a Girl Scout volunteer and participated in many other activities. Debbie enjoyed gardening, music, astronomy, and walking through the Iroquois National Wildlife Refuge. She truly loved Parish Community Life and all the people she served! The world was a brighter place with Debbie in it!
Besides her mother, Deborah is also survived by her husband Kevin Brown; sons Jason (Dana) Brown, Jeffrey (Cara) Brown, Jonathon Brown, and Jeremy Brown; grandchildren Grace Crooke, Aiden Brown, and Andrew Brown; mother-in-law Jean Brown; siblings Mark (Manuela) Ceglinski, Barbara (Diane) Ceglinski, Daniel (Danna) Ceglinski, and Robert (Pamela) Ceglinski; brother-in-law Mark (Terri) Brown; many loving nieces, nephews, cousins, and dear friends.
There will be a Parish Memorial Mass on Thursday, July 8th at 7 PM at St John the Baptist in Alden. Relatives and friends may call Friday, July 9th from 2-4 and 7-9 PM in Prudden & Kandt Funeral Home, 242 Genesee St., Lockport. A Mass of Christian Burial will be celebrated Saturday, July 10th at 10 AM at the UB North Newman Center. Interment will be in Cold Springs Cemetery. In lieu of flowers, memorial donations to Mount St. Mary's Academy, 3756 Delaware Ave., Buffalo, NY 14217 or to a charity of one's choice would be appreciated. Visit pruddenandkandt.com.