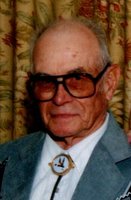 John D. Schwenz, Sr.
John D. Schwenz, Sr. passed away on June 9, 2021 in Clarksville, TN. He was born at home on April 5, 1928 in Deposit, New York.
John worked as a farmer mostly at Randleigh Farms from 1946-1965. He was a milkman, farmer, and bus driver. John then went to work at Harrison Radiator until his retirement. He loved deer hunting. He raised and bred black and tan dogs to hunt with and sell. He and his wife went to many hunts together over the years and brought home many trophies.
John was predeceased by his wife Florence (Waters) Schwenz who went to be with the Lord on August 14, 2003 and his daughter Jennifer (Schwenz) Dodge. He is survived by his children Jackie (Chuck Schafer) Ward, John (Diane) Schwenz, Jr., Joe (Susan) Schwenz, Sr.; grandchildren Jennifer Strickland, Melissa Ward, Adam Schwenz, Eric Schwenz, Joey Schwenz, Jr.; four great grandchildren; brother of Phyllis Whitney, Donald Schwenz, Shirley Lawrence, Harry Schwenz, Charles (Joan) Schwenz and the late Barbara Jackson, Richard Schwenz and Ruth Merritt.
Relatives and friends may call on Wednesday June 16, 2021 from 3-6 PM in Prudden and Kandt Funeral Home 242 Genesee St. Lockport, NY. Where a funeral service will be held on Thursday June 17, 2021 at 10 AM. Visit pruddenandkandt.com.