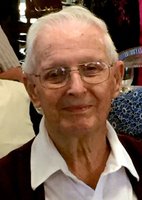 Walter B. Trude
Walter B. Trude, 93, passed away April 17, 2021. Born August 18, 1927 in Lockport he was the son Walter J. and Emma (Hammond) Trude. Walter served in the US Army from 1947-1949. He worked for Harrison Radiator where he was a Senior Supervisor of Data Processing. Walter was a member of the Board of Directors National Management Association and served as past president of G-9 Harrison Radiator General Motors. He was also a town councilman for 14 years for the Town of Lockport, past president and life member of the South Lockport Volunteer Fire Company and was also a charter member of the Exempt Fire Co. Walter was also a charter member of Klub 60, was past president and treasurer of Plat 9 in Cypress Lakes, West Palm Beach, FL, and also past master of Red Jacket Lodge And A.M.
Walter is survived by his wife whom he would have been married to for 70 years, Jean (Koch) Trude; daughters Paula Ferraro and Pam Skellen; grandchildren Beth Skellen, Jeremy (Kayla) Skellen, CJ Ferraro, Carrie Skellen, Cara (Ricardo) Borrero, and Christen (Charles Foley) Ferraro; three great grandchildren; and several nieces and nephews. He was predeceased by his siblings Harold Trude, George Wesley Trude, and Hazel Trude.
Relatives and friends may call Thursday, April 22nd from 7-8:30 PM in Prudden & Kandt Funeral Home, 242 Genesee St., Lockport. Private services will be held at the convenience of the family. The Family requests that if you plan on attending the visitation and/or funeral service they that must be fully vaccinated and be symptom free. Visit pruddenandkandt.com.