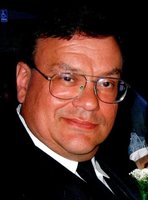 Jim W. Criswell
James W. "Jim" Criswell 63, of Lockport, NY passed away on January 8, 2021, he was the son of Duane and Florence Farmer Criswell.
Jim was born in Lockport, NY on February 20, 1957. He graduated from Lockport Senior High School in 1975 and continued on to receive a Bachelor's of Science Degree from Rochester Institute of Technology graduating in 1980.
Jim was married to Bobbie Criswell on March 30, 1976; they were married 44 years.
Jim worked as a Mechanical Engineer for M E Engineering, P C starting in 2006, and was a Project Manager at several Buffalo, NY Mechanical Contractors. He was the vice president of J W Criswell, Inc of Lockport, NY. He was a member of the Plumbing Board for the City of Lockport, NY for several years. During his career he worked on a multitude of major projects across the United States, most of which were some of the largest Casino's in the country. He had a multitude of Master Plumber's licenses throughout Western New York.
He enjoyed traveling with his loving wife Bobbie.
Jim is survived by his wife Bobbie Criswell, his son Paul Criswell, his daughter Julie (Michael) Bulmer, his two granddaughters Sam Bulmer and Alexa Bulmer, sisters Lynn Wolcott, Debbie Criswell, Sandy Criswell, nieces and nephews Connie Muntz, Paula Siejak, Joe Siejak, and other family and friends.
Visitation for Jim will be on Tuesday January 12, 2021 from 3-7 PM in Prudden and Kandt Funeral Home, 242 Genesee Street, Lockport. Interment will be at the convenience of the family. In lieu of flowers, memorial donations may be given to the Erie County SPCA. Online Condolences at www.pruddenandkandt.com.