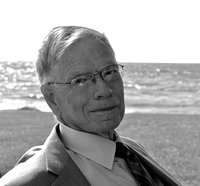 James P. McKenna
James P. "Jim" McKenna passed away on Friday, January 1, 2021, after a short illness. Born in Buffalo, NY on April 24, 1930, he was the son of the late Judge James B. and Mary (Ahern) McKenna. Jim served honorably in the US Marine Corp from 1950-1953. He retired in 1992 after a long career in building, utility & rigging construction in the Buffalo/Niagara Falls area. He started in building construction, moved to the City of Buffalo Engineer's Office, progressed to Director of Water for the City of Buffalo, sold heavy construction equipment, became a Project Manager for a large rigging company and ended his career as the Superintendent of Water for the Town of Lockport. He was an avid hunter, fisherman, camper, gardener, and painter. He devoted many years as Boy Scout Leader of Troop 163 in Buffalo. He had a love for hot coffee and plain donuts.
Jim is predeceased by his wife, Jean D. (Sylves) McKenna (2000), son, Francis X. McKenna (1991), and by sisters Ellen Kinney (George), and Maryanne Leinert (Dan).
He is survived by 10 children: Patrick and Wende (Kowal) McKenna, James P McKenna III (June Schanzenbach), Michael and Anne (Malloy) McKenna, Jean and Jerry Thompson, Brien and Jaree (Reed) McKenna, Kevin and Kathleen (Scheffler) McKenna, Colleen and William Lyons, Thomas McKenna, Sean and Michele (Marzo) McKenna, Maura McKenna. Loving Grandfather of Patrick, Meghan, Ryan, Lindsey, James, Amanda, Daniel, Jeremiah, Joshua, Lorie, Bryna, Shannon, Hayley, Larissa, Chelsea, Courtney, Kaitlin, Lauren, William, Francis, Thomas, John, Grace, Sean, Jacob, and Emmaline. And loving Great Grandfather of 21 Great Grandchildren. He is also survived by three sisters, Joan Barron (Leo), DeSales Kellick (Jack), and Dea McAuliffe and many nieces and nephews.
There will be no prior visitation. Private Services will be held at the convenience of the family. The family hopes to have a post-Covid memorial later this year. Online condolences are welcome at www.prudenandkandt.com.