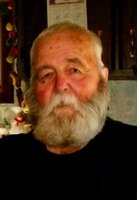 Glenn R. Cooper
Glenn R. Cooper passed away September 15, 2020 in Mount St. Mary's Hospital, Lewiston. Born June 29, 1927 in Lockport he was the son of John R. and Leola (Rosenberg) Cooper. Glenn served in the US Army from 1945-1948 being awarded the WW II Victory Medal and Army of Occupation Medal. He worked in construction for Local 91 out of Niagara Falls, NY for 50 years. Besides his parents Glenn is also predeceased by his wife Clara Mae (Prennett) Cooper, daughter Sherry Cook, and siblings Esther Cooper, Margaret (Walter) Halflet, Harold Cooper, and William "Butch" Cooper.
Glenn is survived by his children Glenda (David) Hodgkins, Roxann (Douglas) Fitch, Wayne (Ellen) Cooper, Diane Murphy, Mark Cooper, Boyd (Lynn) Cooper, and Glenn Cooper, III; son-in-law Robert Cook; several grandchildren and several great grandchildren; also several nieces and nephews.
Relatives and friends may call Friday, Sept. 18th from 4-7 PM in Prudden & Kandt Funeral Home, 242 Genesee St., Lockport. Interment will be in Wrights Corners Cemetery.