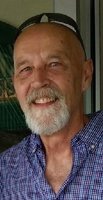 John E. Roberts
John Roberts of Lockport passed away in the early hours of Sunday, July 26th; he was 64 years old. We must say goodbye to the most patient and loving husband, father, grandfather, and friend we could have ever hoped for. He tried so hard to stay with us and fight but his cancer had other plans.
He leaves behind his wife of 46 years, Linda Roberts (nee Tylec) and his two children Brea Herrington (and her husband, James) and Wesley Roberts (and his wife, Alexandra), and the brightest stars in his world; granddaughters Ella and Claudia Herrington, and his lifelong friend Jeff Brown. John was the youngest of five – his oldest brother, Alan Roberts, predeceased him. Left to mourn their loss are his sisters, Marilyn Coleman, Patricia (Ronald) Orlando and his brother Phillip (Margo) Roberts, sister-in-law, Kim Jurney, as well as numerous nieces and nephews.
­­­
John adored his family, friends, and acquaintances and was equally adored by them! We will never fill the hole left in our hearts by his passing but the memories are many; his smile, his ever-present cup of coffee, his countless projects, and his love and dedication to us all.
His family will hold a memorial at Prudden and Kandt Funeral Home, 242 Genesee St in Lockport on Friday, July 31st from 3:00 pm until 6:00 pm to share memories and stories of John's life. In lieu of flowers donations to Niagara Hospice would be appreciated. Please be sure to wear a mask to help keep this memorial as safe as possible. *