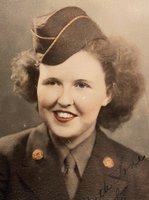 Mary Elizabeth Stoll
Mary Elizabeth (Taylor) Stoll entered into rest on July 24th, 2020, surrounded by her family. She was born on April 15, 1926 to William E. Taylor and Thelma Marie Woodruff-Taylor in Lockport, NY. Waiting at the gate was her husband of 46 years, Charles W. "Jake'' Stoll. She was the oldest of 7 children and attended Lockport schools, included St. Josephs Academy. A child of the great depression, Mary Liz witnessed great sacrifice and community compassion that served as her personal bedrock.
Mary Liz left Lockport in 1944 to join the Women's Auxiliary Corps, inspired by the loss of her cousins in WWII. She was stationed in Des Moines, Iowa and Fort Benning, GA, eventually returning home due to her father's illness. Following her military service, Mary Liz married Jake and had five children. While raising her family, Mary Liz ran the kitchen at the family business as co-owner with her husband at Stoll's Chop House, from 1957 to 1988.
Mary Liz is pre-deceased by her parents, her husband Jake, and her sisters Eleanor, Sally, & Jeanne. She is survived by her siblings William (Donna) Taylor, Patricia Fritz, and Brenda (Walter) Kwoka. Her beloved children, Norman Stoll, Martin (Betty) Stoll, Hanorah (Paul) Smith, David (Beth) Stoll and Daniel (Jennifer) Stoll. Her grandchildren Charlie Stoll, Shannon (Michelle) Smith, Cari (Chris) Brinton, Diane (Paul) Burdick, Charla (Aaron) Niziol, Jessica (Michael) Sadler, Stacey (Thomas Mullaney) Stoll, Sarah (Kevin) Pencille, David (Kim) Stoll & Desmond (Catherine) Stoll. She is also survived by 15 great grandchildren, 1 great-great grandson and many nieces and nephews.
Over the years, Mary Liz opened her heart and her home to family, friends and anyone who was without family at her holiday gatherings. She regaled her children and grandchildren with countless stories of her family growing up and her cherished memories of the times she spent with her cousins. Speaking from her grandchildren's perspective – when you were with Grandma, you knew you were loved, treasured and protected. We will miss you greatly Mom, but we are happy Dad finally has his dancing partner back.
Private services will be held. In lieu of flowers, the family asks for donations to Olmstead Center of Sight in Buffalo, NY. www.viawny.org.