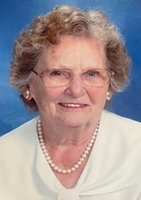 Peggy Kearns
Peggy Kearns passed away July 14, 2020 in Niagara Hospice House. Born February 2, 1928 in Lockport she was the daughter of Henry and Freda (Schilling) Loud. Peggy was a Licensed Practical Nurse. She worked for Dr. Altbach's private practice in Newfane until she began raising her family in Lockport. In her later years Peggy worked for the Jiffy Mart Hallmark Store. She enjoyed sewing, puzzles, gardening, and spending time with her family. Peggy was predeceased by her husband, Matthew Kearns, and siblings Robert Loud and Roxane (Eugene) Gallagher.
Peggy is survived by her children Michael (Rhonda) Kearns, Roxane (David) Kern, Joseph (Teresa) Kearns, Edward (late Theresa) Kearns, and Patrick (Debbie) Kearns; nine grandchildren, ten great grandchildren and several nieces and nephews.
Relatives and friends are invited to a Mass of Christian Burial to be celebrated Saturday, July 18th at 9:00 at All Saints Parish, 76 Church St., Lockport. Interment will be in Cold Springs Cemetery. Visit pruddenandkandt.com.