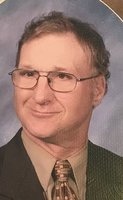 William "Billy" C. Maines
William "Billy" Charles Maines age 68 of Middleport, New York entered in to the arms of Jesus April 24,2019 at Niagara Hospice House. Born June 2, 1951 in Lockport, Billy is the son of Clifford and Betty Maines and he attended school in Medina. Billy was a member of Holy Cross Lutheran Church and retired from Fisher Price. Billy enjoyed visiting in the village of Middleport and was loved by all who knew him. Billy enjoyed spending his free time at the Middleport Fire Department, Mr. Ed's, Allen's Service Station, Darryl's Place, Wilson Farms and going to the races.
Billy is predeceased by his father Clifford Maines and his sisters Rosemary (Maines) Zahoransky, and Debora (Maines) Reynolds.
Billy is survived by his mother Betty Maines, and sister Doreen (Joe) Lobczowski, Nieces and Nephews Dana (Mary Beth) Moore, Adam (Don Oades) Moore, Amanda (Brent) Amos, Adrienne (Greg) Zastrow, Jennifer (Barry) Kreutz as well as 5 great nieces and nephews.
The family would like to thank everyone in Middleport for their kindness to Billy. In lieu of flowers donations can be made to Niagara Hospice 4675 Sunset Drive, Lockport, NY 14094. Online Condolences at www.pruddenandkandt.com.