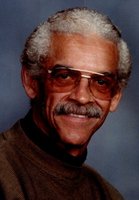 Lester Hooper
Lester Hooper went home to be with the Lord on march 24, 2019. He passed away peacefully in his sleep with his family beside him. Lester was born July 7, 1935 in Terre Haute, Indiana to the late Homer and Edna Hooper. Lester grew up in Niagara Falls, NY and attended Niagara Falls High School. Upon his graduation, Lester joined the United States Air Force and was a dedicated staff sergeant for 8 years. Lester worked as a mechanic and retired as a diesel mechanic with the City of Niagara Falls. Lester also received an Associates Degree as a Paralegal. He was recently a part time employee at Hyde Park golf course in Niagara Falls, NY.
In addition to his parents, Lester was predeceased by his siblings Junior Hooper, Harry Hooper, Myra Satterfield and a special nephew James Pryor. Lester is survived by his wife Sandra Hooper, son Raun (Yvette) Hooper, daughters Jessica (Frank) Hooper Mrowka, Jeanine Hooper, Robyn (Ray) Hooper Shore, and Lezlie Hooper. Lester is also survived by his sister Sharon Cunningham, special nephew Michael Smith, and also several other nieces and nephews. Lester was a loving grandfather of Cortland, Macsen, Kendall, Collin, Andrea, Cedric, Jordayn, Lester. And Angelica and admired by great grandchildren. He will be dearly missed by his family and friends.
A memorial service is planned for Lester and all family and friends will be informed of arrangements.